Robbers' Camp
| | |
| --- | --- |
| | This page describes old game content that was removed or replaced. The information here does not apply to the current version of Antiaris. |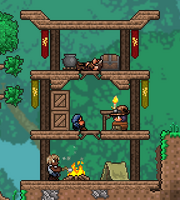 The Robbers' Camp is a structure generated at world creation. It spawns at the Surface level, east of the spawn point.
The structure is built from wood and contains the following:
Passive Robbers will attack the player when approached
The Robber's Camp Can sometimes load before modded biomes, Thus destroying it entirely.