Quest Tracker
Quest Tracker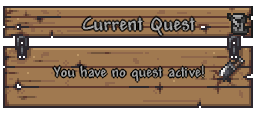 An example of a quest tracker.
Antiaris Mod features a Quest Tracker that spawns from the world and can be toggled with the Enable/Disable Quest Tracker key (default Letter Q).
Appears on the right screen beside the map.

Display the full quest description by interacting the Quest button.
Can close/open the tracker by pressing the Q button.

Allows players to display Adventurer's Full Quest dialog.

The quest tracker does not show any other quest dialog.
Has a specific kill number that the quest is shown after the enemies are killed.

Texts displays on the bottom of Quest's Name and Description.

Can be displaying the numbers when killing certain enemies needed.

Displays the (!) when the quest is ready from Adventurer or Town NPCs are bounded.

Also displays the (?) when the quest is now finished and will be turned in from Adventurer.
Can also display the Quest Icon from the enemies that are needed to complete it.
Players can move the Quest Tracker around by clicking and dragging it.
0.1.0.8:

Can now move the tracker bar.
Adds a special button to check the full dialog.